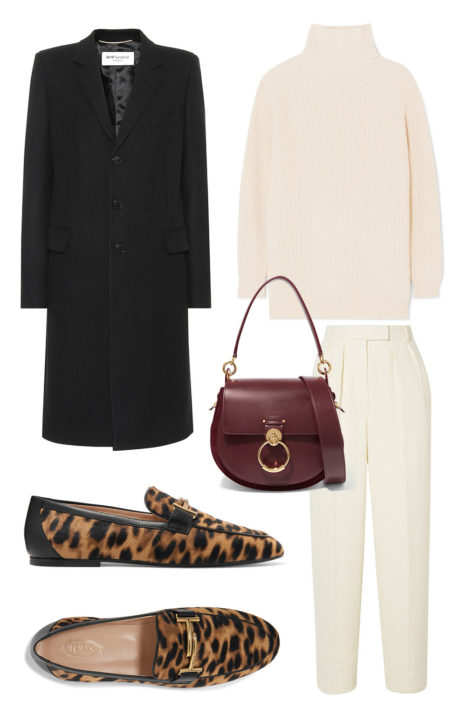 The idea that you can't mix black, white and brown is old and outdated. If you follow these simple rules, you'll look fabulous in this colour combination for fall 2019. Here's a step to step guide on how to pick the perfect items for your favourite minimal look of the season.
1. Pick the perfect coat.
For a tailored look, it's better to go for a coat with a pretty straight cut without lots of details. To keep it simple, don't opt for contrasting details. Keep it all tone in tone… or in this case: black in black. If you want to go more of a statement, then make it with shoulders like in this Rick Owens Coat.
2. Tailored Trousers are a must.
As we're dealing with pretty straight lines in this outfit, a tailored waist is a must as they give the masculine lines in the designs a feminine touch. Your white (or creme) pants are your friend. Pair with a comfy sweater.
3. Spice it up with the shoes.
Ok, that was simple enough. Now let's talk about shoes. We want those to pop, but not in a crazy way. How about some animal print flats. Leopard? Leopard!
4. The bag.
To keep this outfit simple but not boring, we'll pick a bag that's both classic but puts contrast into our outfit. Forget about matching colours when it comes to bags and shoes. It often looks cheesy. Also, make sure that the brown isn't too dark so it doesn't blend in with your black coat.