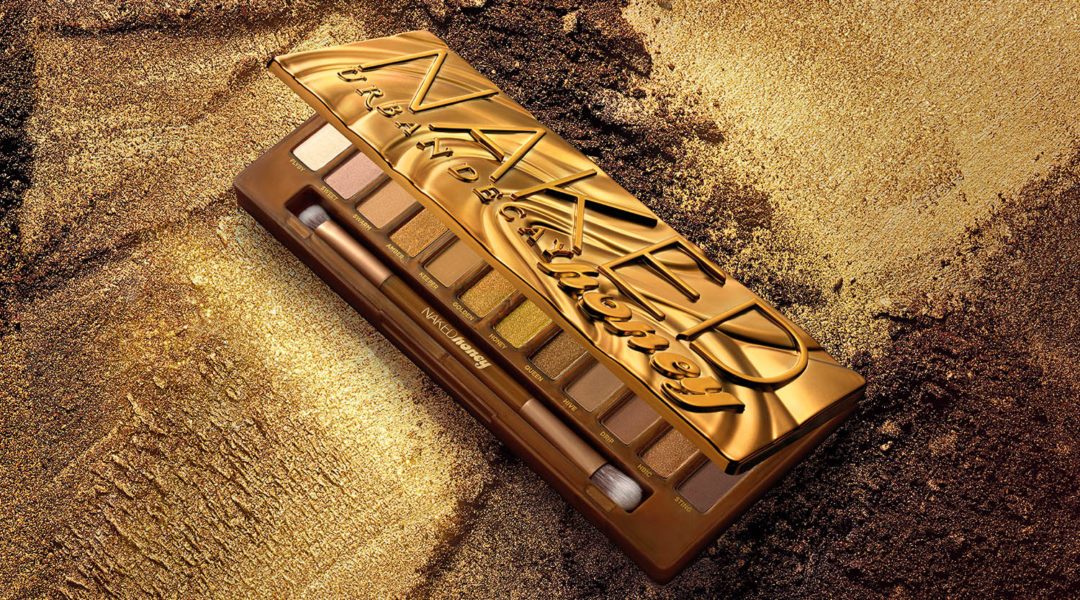 Joy, to the world! The new Naked Honey Palette has come!
I'm always happy to give you a first look at new releases. Please excuse the blasphemy of me using your favourite Christmas song to talk about an eyeshadow palette… but isn't it true. Every year, we wait for this one release: The Urban Decay Naked Palette. This year, it's called "Naked Honey" – and one look at the colours will tell you why: We're in for warm, sweet colours this fall!
The new Naked Palette features 12 tones – as usual, there's a mix of mattes and shimmers. My personal highlight es the very yellowy golden colour, that gives the palette it's title: Honey. I'm also wuite in love with the mix of metallics, shimmers and mattes. The last shade "Sting" is a warm brown that is just breath-taking! Here are the swatches close up:
The shades from left to right: 1 Flyby (matte), 2 Sweet (matte), 3 Swarm (matte), 4 Amber (metallic), 5 Keeper (matte), 6 Golden (shimmer), 7 Honey (metallic shimmer), 8 Queen (shimmer), 9 Hive (matte), 10 Drip (matte), 11 Hbic (shimmer), 12 Sting (matte)
And here's what it looks like on real skin (actress Joey King borrowed her face to the new campaign). And Urban Decay poured actual honey over her face – which to me seems like more of a mess than a selling argument, but what do I know about such things as classic advertisement. 😉
I'm quite curious to see what all those great Youtube-Makeup-Artists come up with, as the promotional look is, in all fairness, a little boring. The colour variety is breath-taking though, and I'm pretty sure the new Naked Palette will be as much of a success as it's predecessors.